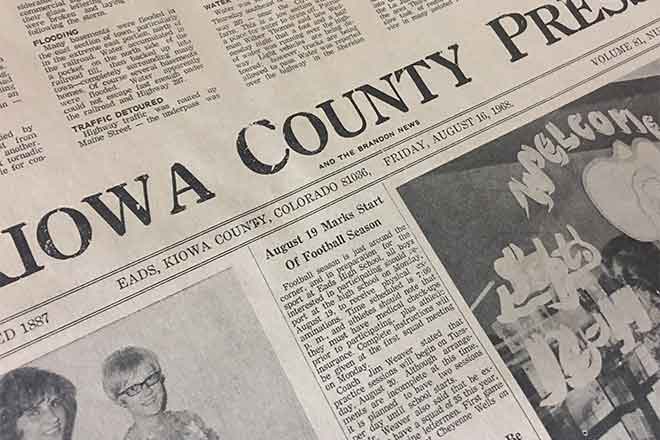 Published
Sunday, March 12, 2023
15 Years Ago
March 7, 2008
The Colorado Department of Health and Environment has confirmed that a Kiowa County man who died in late February had contracted Hantavirus.
A fire at Nee Noshe Reservoir prompted response from six area fire departments before being brought under control.
25 Years Ago
March 6, 1998
US Senator Ben Nighthorse Campbell introduced legislation authorizing the National Park Service to purchase the Sand Creek Massacre Historic Site.
A number of current and former Kiowa County resident's names appear on the state of Colorado Department of the Treasury "Great Colorado Payback" list.
40 Years Ago
March 11, 1983
Lady Eagles take the district basketball crown for the fifth time in a row.
The Kiowa Oil Company in Sheridan Lake was recently purchased by Mike and Karen Benge. Both Mike and Karen will be kept busy between Kiowa Oil, Plains Parts and the cafe which they lease.
50 Years Ago
March 9, 1973
A discussion was held by LAVCOG on the possibility of obtaining a permanent easement for hunting and fishing on the lakes in Kiowa County.
75 Years Ago
March 5, 1948
Miss Louise Van Schooten, former Kiowa County teacher, has been appointed to a position with the Special Services Department of the Army. She is bound for the American-occupied zone in Europe, and will serve as recreational director of an Army Service Club.
If you hear a rumble and a roar, or see something rush by, it's probably J.A. Weatherly or Evan Perryman on Johnny's new motorcycle.
100 Years Ago
March 2, 1923
The engine at the schoolhouse was out of commission part of last week but is doing good now. We have electric lights in the building now.