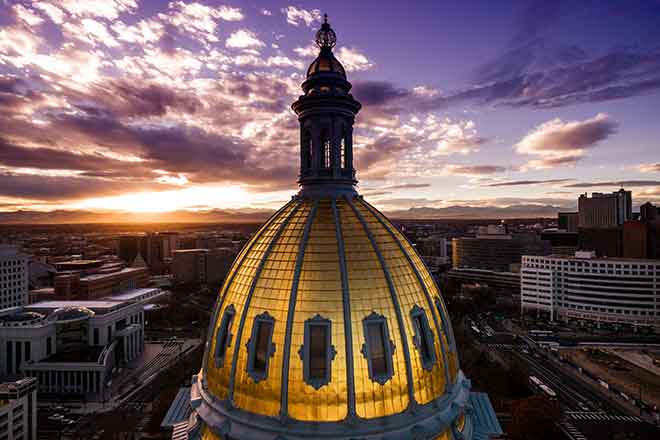 Published
Wednesday, January 18, 2023
(The Center Square) - Colorado Governor Jared Polis emphasized the need for more affordable housing and lowering income and property taxes during Tuesday's State of the State address.
During remarks lasting approximately an hour to a joint session of the Colorado General Assembly, Polis began by mentioning his administration is between the past four years and the next four years.
"We are middle-aged, but God willing, our midlife crisis is in the past," Polis said. "I have a bit less hair than four years ago, but more wisdom and experience."
Polis went on to say Colorado's "best days are yet to come." He also did an impersonation of Yoda from Star Wars to emphasize workforce needs.
"Colorado might not need more than a small council of Jedis, but there are many other industries where we need lots of talent," Polis said.
Polis said the state's 150th birthday in 2026 provides a target for completing various initiatives. He spent several minutes analyzing and emphasizing the importance of affordable housing in the state.
"Over the last half century, housing prices have increased roughly four times the rate of income," Polis said. "That means a house today costs four times as much, compared to today's income levels and 60 years ago, putting the dream of homeownership out of range for too many Coloradans."
He quoted the Old Testament to advocate for revitalization communities while protecting the state.
"Building smart, efficient housing statewide, especially in urban communities and job centers, won't just reduce costs, it will save energy, conserve our water, and protect the lands and wildlife that are so important to our Colorado way of life," Polis said.
He urged legislators to work together for long-term property tax relief for residential and commercial properties, while protecting school funding. He also thanked those who lowered the state income tax rate to 4.4 percent and for providing taxpayers a $750 TABOR refund.
"I don't expect that we can fully eliminate the income tax by our 150th anniversary, but let's continue to make progress," Polis said. "With healthy budget surpluses from our strong economy, we should further reduce the income tax rate for everybody while doubling down on relief for working families with policies like expanding the earned income tax credit."
House Minority Leader Mike Lynch, R-Wellington, criticized the governor's speech for not addressing rural issues.
"The governor outlined many challenges facing Colorado's cities and metro areas, with nearly no mention of rural and agricultural Colorado," he said in a statement. "Barely acknowledging one of our state's largest industries - the one that feeds our families and brings in tax revenue to pay for the governor's big government plans - is an unfortunate slip of mind."
Lynch acknowledged "There were areas in his speech we can find common ground together, such as reducing or repealing the income tax, wildfire mitigation, crime, and water use."
Conservative advocacy groups also responded to Polis's vision for taxation.
"Let's work to drive our income tax to zero and ensure the Colorado legislature protects TABOR refunds," Americans for Prosperity of Colorado posted on social media after the speech.
Advance Colorado Institute, a conservative advocacy group, emphasized Polis needs to provide a balance for the state when bills come from the Democrat-controlled legislature.
"We share many of the same goals that the Governor has repeatedly outlined, such as making our state more affordable for working Coloradans, bringing down the rising crime rate, and improving educational outcomes for all students," Michael Fields, the group's president, said in a statement. "But this will require the Governor to be the check and balance to an overreaching legislature. Unfortunately, we have already seen proposed legislation that would make our state worse off. We need to get Colorado back on the right track."