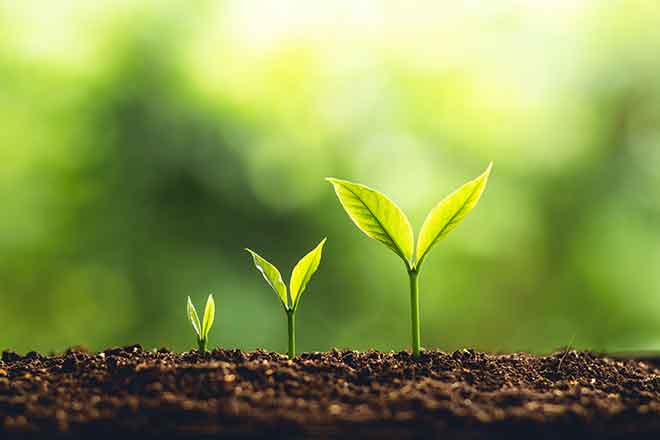 Published
Saturday, February 29, 2020
Probiotics. I've heard people pitching yogurt talk about them on the tube. I used to sell probiotics by the tube to the ranchers back home at the co-op I managed. In animals, (including you and I), probiotics are thought to aid in everything from digestion to boosting the immune system. What are probiotics? Probiotics are friendly bacteria and yeast that dwell in our digestive system. There are thought to be well over 500 different kinds of them. When we take antibiotics, this naturally throws things out of balance in the digestive system and the addition of probiotics to your diet after something like this will start to get your system back to normal.
I can see you sitting there reading this and thinking to yourself, "Why is he talking about probiotics?" "This is supposed to be an article about something agronomic." I will enlighten you my friends. We now have access to plant probiotics. I will be the first to tell you that I am the most skeptical man in the world when it comes down to trying the next miracle fertilizer, soil amendment, insecticide, seed treatment or whatever. In my 30 years in the business, I have seen so many come and go that it would take a couple of sheets of paper to write them all down. Do you remember the bucket full of powder that was supposed to contain all of your macro nutrients in one tablespoon per bushel? I still think that stuff was cornstarch. Do you remember 'Leon's Guaranteed Corn Stand in a Bag?' Well, I don't either, but that's how ridiculous some of the claims that were connected with these products seemed to be. I need data. I need to see it with my own eyes. I need to dirt under my fingernails putting a product through the hoops. But what I really want to see in the big scheme of things is a bigger bottom line. If I'm going to convince one of my producers that this is something that is going to benefit him or her when all the numbers are crunched, I am going to be dang sure it performs as it says it will.
Ok, the first and most obvious probiotics are the rhyzobia that we inoculate soybeans and other legumes with. They have been around a long time, we know they are essential for nitrogen fixation and we know that they most definitely add big bucks to the bottom line. No brainer there. Here is one that I have worked with for a few years and I have to say that the results are not only visually stunning, but the end results can be a big bonus as well. This product is not an actual probiotic per se, but it is the end product of a fungus that occurs in several grain species. The fungus is gibberella and the active ingredient here is gibberellic acid. This acid works as a plant growth regulator. It is combined with a plant hormone named cytokinin. This hormone stimulates plant cell division.
A couple of scientists at an ag chemical plant were toying with the idea that if they could only get the right amounts of gibberellic acid and cytokinin on a plant, a seed or its roots, they might be able to control the growth of that plant or at least stimulate it. It took lots of trial and it took lots of error, but they finally got it right. I can't name this product in my column because I don't sell ads, your newspaper does. But I can tell you what it has done where I have put it to the test.
I have tested this product on corn, soybeans and wheat. We treated the seed, applied the product in furrow and I have put it on post. The seed treatment was visible at first with an enhanced root system as soon as emergence. I'm not kidding, this stuff works that fast. The in-furrow system was noticeable at emergence also. It was the most stunning visually throughout the growing season. You could see right to the line where the check strip stopped and started. The post treatment was not as visual in my mind. We made the applications at V5 in the corn, V5 in the soybeans and at flag leaf in the wheat.
When everything was said and done, I was happiest with the in-furrow treatment. Not only did we end up with more root mass in all of the trials, we did get about a 5-bushel bump in the corn and a 3-bushel bump in the beans. The wheat had more root mass but as a rule, did not generally bump enough to justify the application. I think these products will perform best in those years when the rain is short and the extra root mass is needed to mine for water. I think these products will also be a fit in that poorer ground where the extra root mass can seek out those extra nutrients and water. I will mention too that these plants had bigger stems and stalks that leads me to believe it might help with lodging, which would be worth a lot in and of itself. I would like to see someone out there try that one if it is possible.
Bob Strasner is an agronomist based in south central Kansas. He has over 30 years of experience in the farming, soil science and plant science business. His weekly column focuses on agronomy, horticulture, soil science, farming in general, rural-small town community life, some life-learned wisdom and a good dose of humor here and there.