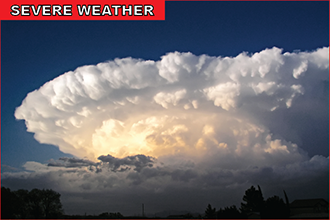 Published
Wednesday, April 13, 2016
While some uncertainty about details remain, confidence is growing that a storm system bringing much-needed moisture will impact a large portion of Colorado, including the eastern plains and Kiowa County, beginning Friday afternoon.
An upper low pressure system drops into northern Arizona Friday afternoon and begins slowly moving across northern New Mexico, bringing snow, rain and thunderstorms to the mountains and spreading to the eastern plains.
Activity increases Friday night into Saturday as precipitation increases across the area, bringing more snow to the mountains and thunderstorms over the plains.
The low shifts north and east Saturday night into Sunday, possibly taking severe weather into northeastern Colorado, however uncertainty remains.
In Kiowa County, temperatures are expected to be in the mid-70s to low 80s through Friday before cooling to the low to mid-50s over the weekend. Showers and thunderstorms become likely Friday night, with one-half to three-quarters of an inch of rain possible. Rain becomes likely throughout Saturday, and a rain/snow mix is possible Sunday. Expected amounts of precipitation are still in question over the weekend.
Winds begin to pick up Thursday night, increasing to 25-30 miles per hour with gusts to 40 mph, then dropping slightly after midnight. Wind will mostly remain in the 15-25 mph range through Sunday, with gusts to 30 mph likely.
Expectations for this storm system continue to evolve. Check back Friday for updates.