Image
Ag stats: February 2022 Colorado crop progress and condition report
Note: Weekly reports resume the week of March 14.
Seasonal moisture during February improved the short-term outlook in areas across the state, but moisture deficits remained, according to the Mountain Regional Field Office of the National Agricultural Statistics Service, USDA.
Calving and lambing were underway and benefited from milder weather in areas, according to county reports.
In eastern districts, some localities fared better than others in terms of received moisture and recent snowfall. Winter wheat benefitted from better snow cover. Concerns remained going forward for fall-seeded crops and pasture conditions.
In western districts, precipitation remained limited and confined to the high country. Snow remained on the ground in areas and conditions were wet.
The latest U.S. Drought Monitor report rated the entire state as abnormally dry to experiencing severe drought conditions.
Image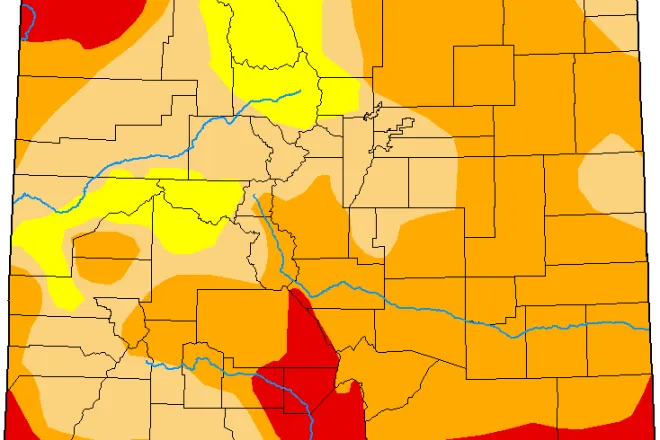 Statewide, winter wheat condition remained steady with 21 percent of the crop rated good to excellent, compared with 20 percent good from the previous report, and 19 percent good to excellent last year.
As of February 18, 2022, snowpack in Colorado was 92 percent measured as percent of median snowfall.
LIVESTOCK PROGRESS

Commodity

Current report

Previous report

Previous year

5-year average

 

(percent)

(percent)

(percent)

(percent)

Cattle and calves 

 
 
 
 

Cows calved 

17 

NA 

8 

NA 

Sheep and lambs 

 
 
 
 

Ewes lambed 

10 

NA 

11 

NA 

SOIL MOISTURE CONDITION

 

Current report

Previous report

Previous year

5-year average

 

(percent)

(percent)

(percent)

(percent)

Topsoil moisture 

 
 
 
 

Very short 

26 

32 

34 

NA 

Short 

39 

50 

39 

NA 

Adequate 

34 

16 

27 

NA 

Surplus 

1 

2 

-- 

NA 

Subsoil moisture 

 
 
 
 

Very short 

32 

31 

37 

NA 

Short 

32 

38 

43 

NA 

Adequate 

36 

30 

20 

NA 

Surplus 

-- 

1 

-- 

NA 

CROP, LIVESTOCK, PASTURE AND RANGE CONDITION

Commodity

Current report

Previous report

Previous year

5-year average

 

(percent)

(percent)

(percent)

(percent)

Pasture and range 

 
 
 
 

Very poor 

4 

16 

38 

NA 

Poor 

17 

19 

29 

NA 

Fair 

47 

45 

24 

NA 

Good 

23 

17 

9 

NA 

Excellent 

9 

3 

-- 

NA 

Winter wheat 

 
 
 
 

Very poor 

17 

14 

15 

NA 

Poor 

23 

26 

14 

NA 

Fair 

39 

40 

52 

NA 

Good 

20 

20 

17 

NA 

Excellent 

1 

-- 

2 

NA 

Livestock 

 
 
 
 

Very poor 

-- 

-- 

3 

NA 

Poor 

7 

6 

8 

NA 

Fair 

18 

14 

41 

NA 

Good 

64 

70 

42 

NA 

Excellent 

11 

10 

6 

NA