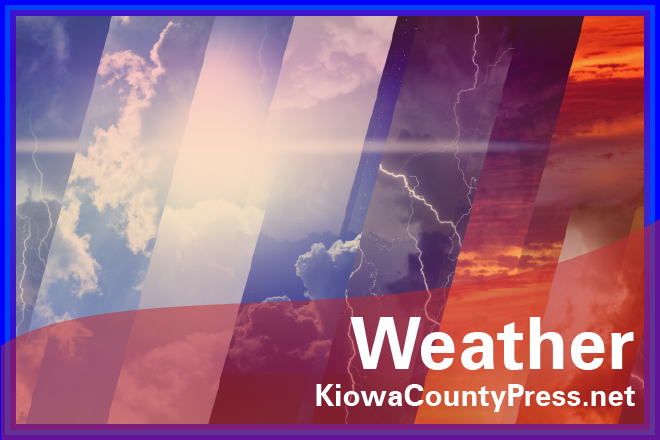 Published
Thursday, May 30, 2019
High temperatures Thursday across Kiowa County will rebound about 10 degrees from Wednesday, while the chance of rain is minimal across most of the area.
The warming trend will be accompanied by sunny to mostly sunny skies. The western half of the county could see scattered late-day thunderstorms. Early morning clouds should clear by mid-morning.
Overnight, temperatures will be in the upper 40s across the county.
Wind will be light throughout the day, generally in the 5-10 mile per hour range from the west to northwest.
Look for further warming Friday as highs reach the upper 70s. Seasonal temperatures are expected to continue into early next week, with highs in the 70s and 80s. There is potential for cooling around the middle of the week.
At 6:00 a.m. Thursday, a wind gust of 9 mph was the strongest recorded since midnight in central Kiowa County. The temperature was 42 degrees.
Though Kiowa County is expected to be dry, some rain is possible across southeast Colorado Thursday. Potential for severe storms is limited.
Currently, KiowaCountyPress.net Live Weather from downtown Eads shows WNW wind at 3 mph. The temperature is 31.
Elsewhere in Colorado, relatively calm weather prevails. While mountain areas could see some snow above 11,000 feet, no winter weather alerts are expected. Mountain rain is possible, created a slight risk for flooding from the 2018 Spring Fire burn scar in Huerfano and Costilla counties.
Kiowa County Weather Outlook for May 30, 2019

Community

High

Low

Chance of Precip

Wind Gust

Direction

Arlington

76

48

10-20

10

W

Haswell

74

48

20

10

NW

Eads

73

47

20

5

NW

Brandon

74

47

0

10

NW

Sheridan Lake

73

47

0

10

WNW

Towner

74

49

0

10

WNW
Weather information updated throughout the day is available at http://weather.KiowaCountyPress.net.