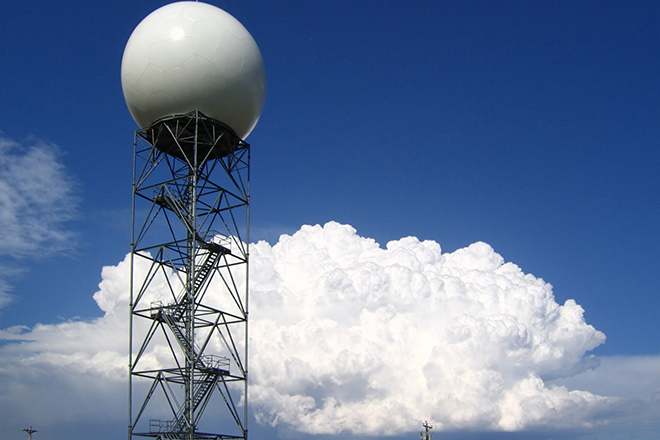 Published
Sunday, September 24, 2017
The National Weather Service office in Pueblo announced late Saturday that its weather radar site has returned to service days earlier than expected following repairs.
In mid-September, the NWS announced that the site was offline due the failure of the bull gear. The gear is a primary component for rotating the radar antenna, and is located in the pedestal.
Repair efforts began last Tuesday, and were expected to take as long as 10 days.
In order to replace the gear, the entire antenna assembly - which weighs over two tons - had to be lifted while nearly 15,000 pounds of replacement parts and equipment were hoisted into the radar dome.
An engineering team from the Radar Operations Center in Normal, Oklahoma, made the determination that the gear had been damaged by normal wear over its 22-year life. A six-person team from the center provided oversight for the repairs.
Pueblo's radar site is one of a network of 159 radar installations supported by the National Weather Services, United State Air Force and the Federal Aviation Administration.
The site is a critical tool for tracking weather events and issuing alerts and warnings to the public across southeast Colorado. Images from the Pueblo radar site are one of three available any time at the KiowaCountyPress.net weather page.
Photo: damage to a bull gear similar to Pueblo's. Courtesy National Weather Service.