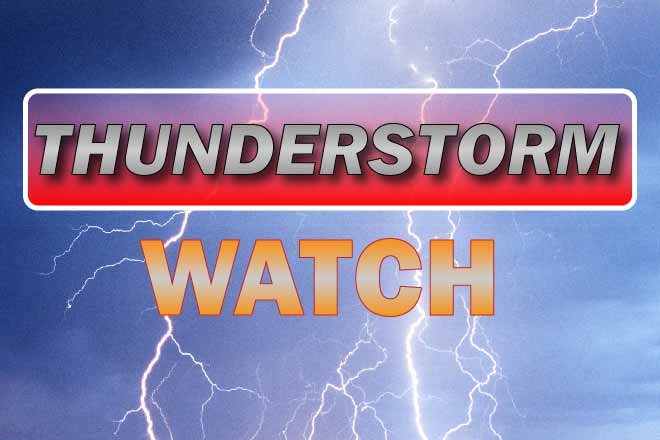 Published
Saturday, June 19, 2021
Note: This article will be updated as conditions change.
The National Weather Services has issued a severe thunderstorm watch for 20 eastern Colorado counties Saturday afternoon. Three additional counties were added around 4:30 p.m. The watch is expected to remain in effect until 9:00 p.m.

Radar image updates every five minutes.
Storms could produce heavy rain and hail as large as two inches in diameter. There is potential for wind gusts up to 75 miles per hour. Brief landspout tornadoes are also possible.
A tornado warning was issued in northeast Adams County around 2:20 p.m., with a follow on warning in neighboring Morgan County issued at 2:40 p.m. Northeast Elbert County was placed under a tornado warning at 2:55 p.m.
Shortly after 3:30 p.m., the NWS had posted a statement warning of the potential for brief landspout tornadoes in Elbert and Douglas counties.
Around 4:15 p.m., radar over Washington and Logan counties showed the possibility for tornadoes to form, prompting two warnings to be issued in the area.
Numerous severe thunderstorm warning were issued throughout the afternoon as a line of converging storms sped across northeast Colorado toward Kansas and Nebraska.
Counties covered by the severe thunderstorm watch include
Adams
Arapahoe
Bent
Cheyenne
Crowley
Elbert
El Paso
Kiowa
Kit Carson
Lincoln
Logan
Morgan
Otero
Phillips
Prowers
Pueblo
Sedgwick
Washington
Weld
Yuma
Later in the afternoon, Baca, Las Animas and Huerfano counties were added to the watch area. By 6:00 p.m., portions of the watch were being cancelled in northeast Colorado.
The NWS has also issued a flash flood watch for the southern Colorado burn scars, particularly for the Decker, Junkins, and Hayden Pass burn scars. While thunderstorms are still possible over the Spring Burn Scar, confidence is lower that it will flash flood. The Chalk Cliffs in Chaffee County has also been included since heavy rain from thunderstorms are expected to develop near and around that region. The watch is expected to remain in effect until 10:00 p.m.
Seven neighboring southwest Nebraska counties are also under a severe thunderstorm watch.