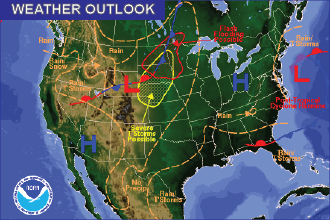 Published
Sunday, September 4, 2016
By Chris Sorensen
The potential for isolated thunderstorms returns Sunday, especially for eastern Kiowa County, while the western half of the county can expect drier conditions.
Low 90s are expected through Wednesday before a gradual decrease to near 80 for Saturday. Overnight lows will also taper from the low 60s during the early part of the week to low 50s by Friday evening.
In addition to Sunday's storm potential, a slight chance of thunderstorms returns for Labor Day - mainly later in the day into the evening.
Abundant monsoon moisture generally returns to southern Colorado Tuesday, creating a slightly elevated risk for scattered late-day storms.
For Wednesday through Saturday, a westerly flow aloft will bring drier air into the area, and a weak cold front is expected to pass through late in the week.