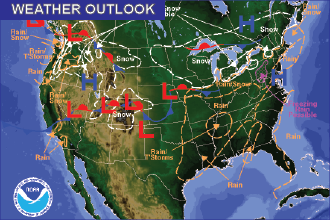 Published
Sunday, December 11, 2016
By Chris Sorensen
After last week's sub-freezing temperatures, a relatively warm stretch will kick of the coming week.
Mostly sunny skies will prevail Sunday and Monday, as temperatures reach the mid- to upper 40s. Overnight lows will be in the mid-teens.
Tuesday marks the start of another cooling period as the temperatures drop to the upper 30s during the day and low teens at night.
Below-freezing conditions continue Wednesday, with a high only in the mid-20s, and an overnight low in the single digits.
Thursday and Friday will see highs hovering around the freezing mark. Thursday's low will be in the mid-teens, while single digits return overnight Friday with some chance of snow as a cold front moves across the area.
The potential for snow continues Saturday although forecast models differ on the likelihood. The high will remain in the upper teens. One solution provides for widespread precipitation that could help moderate drought conditions.
KiowaCountyPress.net now offers a free forecast update emailed to you each morning around 6:00 a.m. To start, send an email to kiowacountypressweather+subscribe@googlegroups.com for quick signup process. Then, just reply to the message sent back to you to confirm your email address, and you're done! You'll start receiving the weather forecast the next morning. There's no cost, and you can unsubscribe any time.