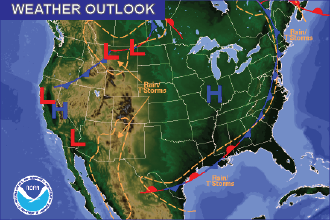 Published
Sunday, September 11, 2016
By Chris Sorensen
While the first day of autumn is over a week away, hints changes will be evident in the forecast for this week.
Sunday will have a summer-like high temperature in the mid-90s before starting a drop-off for a few days as a front passes through the area. Monday remains mostly sunny with a high in the mid-80s.
Tuesday will be the coolest day of week, with a below-normal 65 for the high. Temperatures will rebound to the mid-70s to low 80s for the remainder of the week.
Overnight lows will be in the upper 40s to mid-50s.
Showers and thunderstorms also return to the area this week, with the greatest potential occurring Monday night, and similar possibilities Wednesday night.
Higher elevations may see another dusting of snow. If you are planning a trip to the mountains to see the fall colors, remember to take warmer clothing with you - temperatures will be noticeably lower than what we enjoy on the eastern plains of Colorado.